What are they up to now?
Standards
Click on pictures to make them larger.
Kekoa
Hi Joan and Devon,
Just thought i should send some photos of Kekoa she is a pure delight very good and smart dog. Every where we go everyone wants to see her they always say she is so cute. We could not be happier with her and we would truly love to thank you for her, she is the best. i will send several emails with pics.
Kekoa is a Standard Gooldendoodle from Roxy and Buck
Hannah (and Emma the Labradoodle)!
Hi Joan and Devon,
It's been a while since I've up dated you on Hannah Elizabeth. She is absolutely a love bug. She is such a well behaved girl. She is now 3 years old and is 75 lbs. Hannah is a happy healthy beautiful dog. She is nothing but love. Her Sister , Emma Louise is now 81 lbs and is Hannah best friend. They travel every where we go and love to do whatever we do. She love the snow, swimming, and playing ball at the park. Thank you for breeding such beautiful goldendoodles.
- Mike, Debbie, Hannah, and Emma C.
Hi Dennis and Joan,

Our girl's are already 2 years old. They are healthy and happy. We never dreamed we would spoil a dog like we have spoiled her and Emma. Thank you for such a wonderful dog. She is such a loving, smart, and loyal girl. She loves life and is living such a good dog's life. Thank you for the love,
- Mike, Debbie, Hannah, and Emma C.
Hannah is a Standard Gooldendoodle
Boots!

Boots
Hi guys! My boyfriend Kevin and I purchased one of Stella's girl pups last summer. I have been meaning to share some pics with y'all for awhile now. Her name is boots. She's so sweet, we adore her.
-Caitlin W.
Boots is a Standard Gooldendoodle from Stella
Charlie montage!

Charlie's First Birthday
What a fun year with Charlie we had. He is all we hoped for and more. God Bless
-Bea
Charlie is a Standard Gooldendoodle
Posey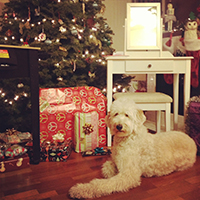 Merry Christmas! We have had Posey for a year now and we love her So much! Hope
all is well!
Love,
Deja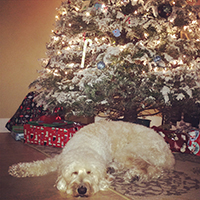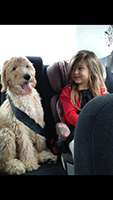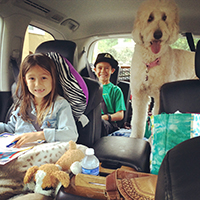 Hi Joan and Dennis,
Just wanted to say hello and let you know that Posey is 2 now and the best dog ever!
Here are a few new pics of her! I see that you have mini's too! I tell people about you guys all the time!
Happy New Year,
Deja
Posey is a Standard Goldendoodle
Cameron

Mr. Dishwasher and bottom 2 were taken after his first swim in the pool
yesterday,
Darlene

Cameron is a Standard Goldendoodle
Brinkley

Brinkley is 1 1/2 years old. Son of Buck and Nova. He has turned into a wonderful dog with a great personality. He is athletic enjoying ball, freebie, and his newest play adventure is running and jumping after bubbles. Feel free to add his picture to your gallery. Thank for the joy of our lives. Lori and Mary

Brinkley is a Standard Goldendoodle
Ollie

Hi Joan! Here Are a few pics of Ollie:) he is amazing!
-Shannon

Ollie is a Standard Goldendoodle
Charley

I bought Charley from you 9/14/09. He was the last one, alI I can say is what a joy. I have had dogs all my life but never a dog like Charley. Great job in the breeding. Hope you're still in business. He is Jessie and Bucks boy. He loves watching TV, he'll watch it for hours, its really funny. Thanks again. Bob and Sandy

Charley is a Standard Goldendoodle and is Jessie and Bucks pup
Soba!

Hi All,
We got our last leg in Novice A today. We got a 1st place and a blue ribbon! We were the only dog and handler in the group, but it is still pretty sweet. She is a great dog and we are going to work on the heeling and move in to Open (the next level of AKC obedience) when we are ready.

Love,
Connie and Soba

Hi Everyone,
Bob, Soba and I are at Lake Havasu having a great time boating, swimming, kayaking and hiking. Soba is a gamer for all, we took her on a power boat and stopped for a swim, did the same kayaking the day before. Today we went on a great slot canyon hike where there was a 7 ft dry fall and had to lower Soba with a rope and her harness. We use the same harness to help get her onto the boat swim step. We encountered two diamondback rattlesnakes on the trail and Soba put her nose on the first one.(definitely need a refresher on the the rattlesnake avoidance class) Soba swam over a mile the other day and was faster than Bob.

Love,
Connie, Bob and Soba
Hi,
We went stand up paddleboarding with Soba today. She was a natural as with all water things! After that she swam with us for 1/4 to 1/2 mile. She is an awesome swimmer and an awesome dog.
Love,
Connie, Bob and Nicole

Hi Guys,
Mommy hasn't updated anyone on my progress for a while so I thought I would! I am doing really well in obedience and may be able to compete in my 1st trial by the end of the year.

I took an "Introduction to the Obstacles" class to see if I would like agility. It was fun! Mommy said I could do anything except be a guard dog but I proved her wrong at that class. A big black labrador retriever jumped on Mommy's lap and I growled and barked at him. She corrected me but I heard her tell Daddy about it and she said I could add protector to my repertoire.

We went kayaking on Mission Bay this weekend with my big sister Nicole. I played on Fiesta Island and I'm a really strong swimmer. Come by and see me sometime, unless my mommy has me in a class or taken me on an outing I'm home and will be happy to see you!


Wags and licks,

Soba


Soba is a Standard Goldendoodle
Adorable Maggie at 7 months!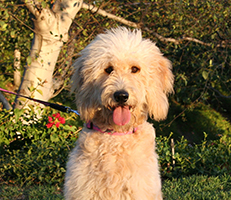 Maggie is a Standard Goldendoodle
This is Pax; one of our puppies at one year of age.

Pax is a Standard Goldendoodle
This is Cali at 10 months!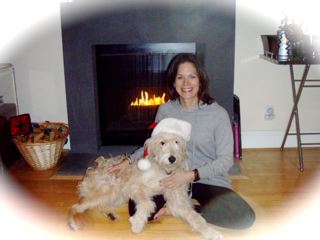 Cali is a Standard Goldendoodle
This is Bailey at 9 months!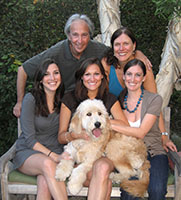 Bailey is a Standard Goldendoodle
This is Bo at 3 1/2 months!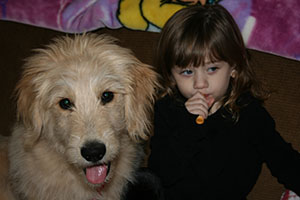 Bo is a Standard Goldendoodle