What are they up to now?
Miniatures
Click on pictures to make them larger.
Buster and Lucy!
Buster and Lucy do their fair share of rolling in grass, dirt and whatever. They had a bath today and Buster looks so pretty and clean. And BIG! LOL. I had to share this.
- Judy W.

Buster and Lucy are Miniature Gooldendoodles
Bear (Pocket)!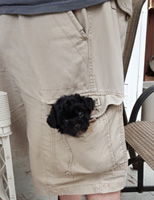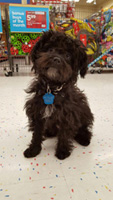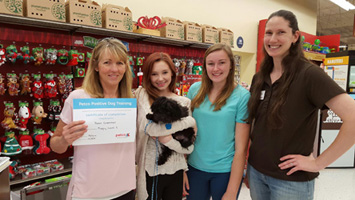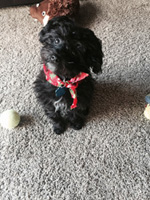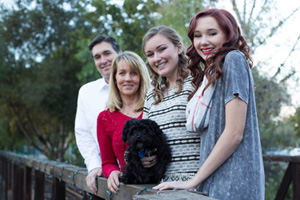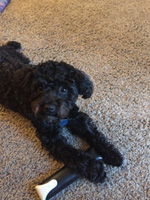 Hello, This is Bear(Pocket). He is doing wonderful and we just
adore him. So fun and full of personality. Hope all is well with
his parents and all of you.
- Shari C.

Bear is a (very small) Miniature Gooldendoodle and is Kate and Riley's pup
Finn!
Hi from Finn!
He sure is an active little bugger! He has a lot more poodle in him...we think....We love him to death and are having a ball!
His markings are crazy... Golden ears and a stripe down his back and blends right into carpet.
His retriever side shines through in that, he will pick up and carry anything and any size! He loves the boat too! He will be 10 months on 11/9 an is 20 lbs. thanks!

Finn is a Miniature Gooldendoodle and is Kate and Riley's pup
Kodi!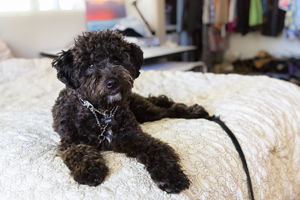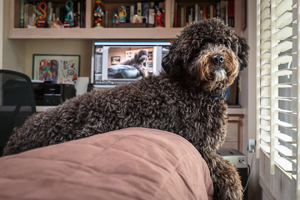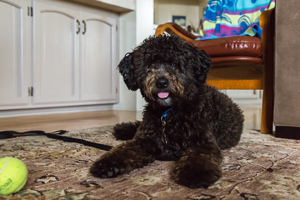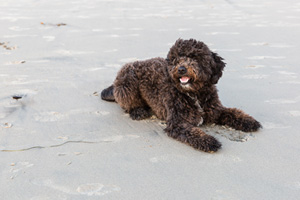 Dear Joan and Devon,
Seems like a good time to send an update on the Golden doodle we bought from you since he is now 9 ½ months old and 24 lbs. What a cutie! We call him Kodi which is short for Kodiak Bear since he looks like a little foraging bear when his hair is long.
From the time we brought him home he has been a playful, people loving, play with any living thing kind of guy. Everything goes into his mouth and he is very adept at hiding stuff in there too. His coloring has been changing but seems to be settling on a light salt and pepper look with his small white chest patch , a golden snout, and a light dusting down his front legs.
He is very fast and loves to run but so far doesn't have much of an interest in jumping for a Frisbee.
People are quite charmed by him and are always asking us where we got him. He really has a great personality and loves to hang over the backs of our couches as he scans for cats and birds outside.
We're very fortunate to have him in our family. Thank you!
Joyce Laveman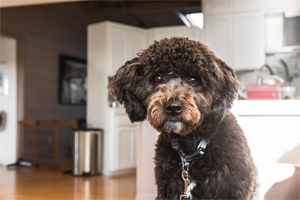 Hi Joan,
Larry took this picture and I thought it was really cute and shows the color on Kodi's "beard" when the light hits it.
Joyce
Kodi is a Miniature Gooldendoodle and is Kate and Riley's pup
Toews!
Joan and Devon, Hi it's Mylene, Gary, and Toews (Taves)! We thought we update you with his first week here! He is everything we wanted and everything we never knew we wanted! He is doing really well with potty training and has even picked up sitting! He is a ball of energy but is sleeping thru the nights as well! Thank you again for raising such amazing puppies!! We love him so much! 10 weeks old! 1st week at my new home!!! Miss you guys!


Hi Joan!
Just thought we'd send an email!!! Toews is doing great!! We love him
sooo much! We can't believe he's almost 5 months!! We actually met a brother of
Toews!! We realized that both our dogs came from Bijou! We're planing on being
in San Diego during the holiday so hopefully we can stop by!!! Hope all is well!
Thank you for having amazing puppies!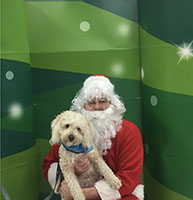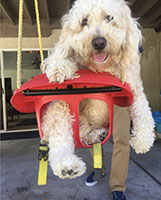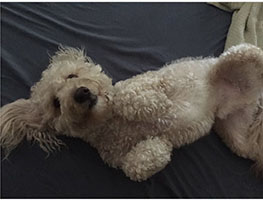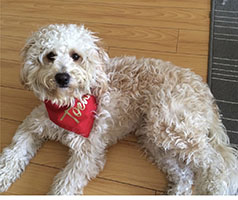 Hi there thought we would send some updated pictures of Toews! Everyone is always amazed about how friendly and loving he is! Thank you for having such wonderful dogs that melt our hearts everyday!
If you want to follow his adventures you can find him on instagram @toewsthedoodle
Xoxo
Mylene, Gary, and Toews
Toews is a Miniature Gooldendoodle and is Bijou and Riley's pup
Frodi!
Hi Joan and Devon I just wanted to touch base. Frodi is doing extremely well. She's taken to her new environment with gusto head first. She is extremely intelligent and has taken to potty training very quickly. She had a wellness exam today and was pronounced healthy and fit. She is not the least bit shy around people and is always very friendly to them. In fact, she's quite the charmer. Every person in the vets office loved her. We are very pleased with her and are very glad we choose you as our breeder! Anyways I will continue to keep you posted every now and again to let you know how she is doing.

--
Best Regards,
Howard
Frodi is a Miniature Gooldendoodle and is Kate and Riley's pup
Brando!
Hi Joan - Here are some pics of Brando's first week at home. He's adjusting
very well. Definitely a handful but so worth it :)
Brando at 3 1/2 months old
Hi Joan - I hope this email finds you well. Wanted to send some of Brando's recent photos. He is 14 lbs now and has grown so fast. I wasn't a big fan of his first haircut but he's growing back in and looking his shaggy, teddy bear self again since these were taken. He really brings a lot of joy to our lives. Brando at 3 1/2 months old
Brando was born 11/21/14, is a Miniature Gooldendoodle and is Bijou and Riley's pup
Jax!

Hey there! Just wanted to update you on little Jax, well not so little anymore!
Whopping 8lbs! He is doing great with indoor training and crate training, only
has accidents when we aren't vigilant. He cried the first night in his crate,
but has slept through the night since. He has mastered sit and we are working on
stay and come. He loves chasing feathers at the beach and thinks every other dog
and little kid are his best friends. He has brought so much joy and personality
into our little family. Thanks for doing what you do! :)

Cj and Katie


Jax is a Miniature Goldendoodle
Toby at 9 weeks!

Hi Joan,
Hope all is well. Just want to share few updates on the puppy.
He is doing well and potty training is in progress. We are enjoying him a lot.
We took him to Vet for a check up. Overall Toby is doing good.
I am attaching a picture and will keep sending you more:)

Thank You,
Usha

Toby was born 11/21/14, is a Miniature Gooldendoodle and is Bijou and Riley's pup